The Marvel Super Heroes Podcast
Episode 021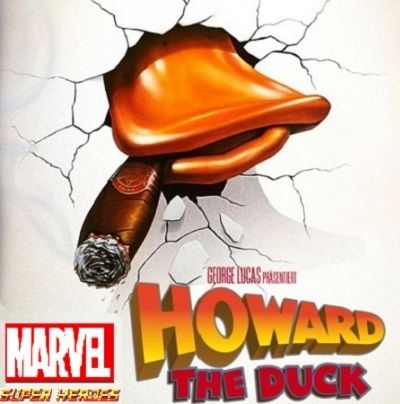 To permanently save this episode's MP3 file to your computer or other listening devices, right-click the link below to bring up sub-menu and select "Save Target/Link As..." Pick where you want it to save to, and you're set.
Note: We like our language NSFW salty, and there be spoilers here...
Face Front, True Believers! Mister Fixit, Illegal Machine and Diabolu Frank tackle the first ever major motion picture to star a Marvel Comics character, Howard the Duck! Conceived as an animated project, Universal Studios needed a live action summer release from Lucasfilm, so the film was converted without regard to propriety or technical difficulties on a tight schedule. The actual Howard suit/animatronics were a work in progress, with varied, obviously divergent stages/designs showing up throughout the film. Ed Gale primarily worked Howard's body, while Chip Zien provided the drake's voice. One of the major action set pieces, the Ultralight sequence, was designed by future
Captain America: The First Avenger
director Joe Johnston. Released on August 1, 1986, the film earned less than a million dollars over its reported production of $37M ($77m in adjusted dollars, relatively cheap by today's standards.) Despite its reputation as one of the biggest box office flops and "worst movies ever," the facts of the matter don't add up.
Howard
isn't even in the top 50 worst performers at the box office (it technically made money in the long run.) It isn't on IMDb's Bottom 100 (with its 4.5 rating) and there are many thousands of movies with lower Tomatometer readings than 14% (39% with audiences.) But we're not here to damn the movie with faint praise as only a middling disaster*.
Howard the Duck
scores 100% favorability among your trio of hosts, who are here to tell you why for a bit under an hour. Excelsior! Plus, the Mighty Marvel Mail Bag!
*Full Disclosure:
Howard the Duck
did put in a strong underperformance as the 1986 Razzie awards, tying for worst picture with
Under the Cherry Moon
and chosen as biggest loser for Worst Screenplay to Willard Huyck and Gloria Katz, Worst Visual Effects to Industrial Light and Magic, and Worst New Star to "The Six Guys and Gals in The Duck Suit," plus nominations for Worst Supporting Actor Tim Robbins, Worst Director Willard Huyck, and Worst Original Song for "Howard The Duck" by Thomas Dolby, Allee Willis and George Clinton.
As you can tell, we love a fierce conversation and a pretty picture, so why don't you socialize with us, either by leaving a comment on this page or...