The Marvel Super Heroes Podcast
Episode 042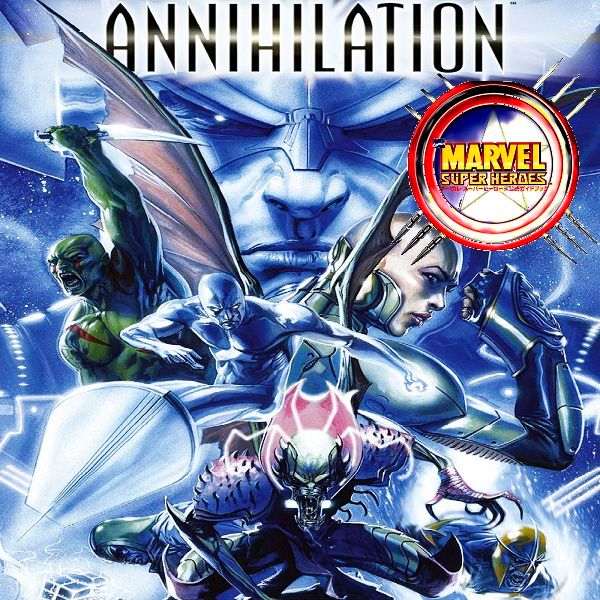 To permanently save this episode's MP3 file to your computer or other listening devices, right-click the link below to bring up sub-menu and select "Save Target/Link As..." Pick where you want it to save to, and you're set.
Note: We like our language NSFW salty, and there be spoilers here...
Face Front, True Believers! For our first anniversary, we finally finish covering the epic
Annihilation
story arc of 2006! Following our looks at
Marvel Cosmic
,
Drax the Destroyer: Earthfall
,
Annihilation Prologue
,
Annihilation: Silver Surfer
,
Annihilation: Super-Skrull
,
Annihilation: Nova
and
Annihilation: Ronan
we're ready to end this war upon your ears! From these specials and mini-series came the final eponymous six issue event book from whose soil the seeds for the modern era cinematic
Guardians of the Galaxy
sprouted! We also open the Marvel Mail Bag and briefly discuss SDCC! Excelsior!
#ffspecial @Rockforever01 @rolledspine @PoleOfficial @AlyzeJohnzen @Darkness_Fallz @mcarr2k @Mad_g3 @Spinnwebchen pic.twitter.com/kt0RKjJC24

— Stephen Courtney (@stevecourtney79) April 17, 2015
@The1stBAT @rolledspine @AA88Press @Capn_Midnight @angelscup @Askthemoon22 @BakedEnglishPod TY http://t.co/sqd9GeIdrT pic.twitter.com/NNR7RNvMIM

— Aminoacid Comic Book (@AminoAcidBoy) April 18, 2015
@rolledspine reading the Dune comic movie adaptarion . instant sequel podcast. pic.twitter.com/0dyJ6AqIin

— Anj (@dranj70) July 2, 2015
1st this shirt, now coworker wlks in w/ their kid wearing a backpack with Cap Spidey and NOVA on it! @CommanderBlanx pic.twitter.com/tslrSVg0zN

— Rolled Spine Podcast (@rolledspine) July 7, 2015
As you can tell, we love a fierce conversation and a pretty picture, so why don't you socialize with us, either by leaving a comment on this page or...