The Marvel Super Heroes Podcast
Episode 046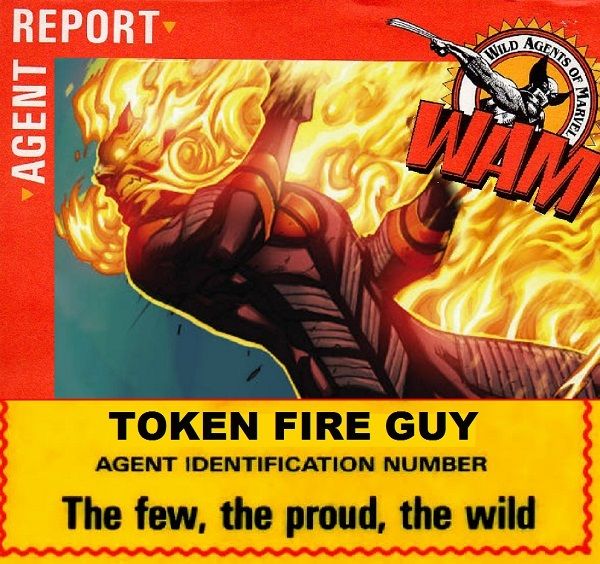 To permanently save this episode's MP3 file to your computer or other listening devices, right-click the link below to bring up sub-menu and select "Save Target/Link As..." Pick where you want it to save to, and you're set.
Note: We like our language NSFW salty, and there be spoilers here...
Face Front, True Believers! It's been two months since our last #MarvelSHP! We do other Rolled Spine Podcasts, so you could subscribe to another stream if you for really and truly missed us, but that's not your scene, is it? So fine then-- you get to miss Illegal Machine and Mister Fixit some more, because they're not on
this
episode, either! This week we return to a forgotten feature of the podcast, Wild Agents of Marvel, named after the 1990s fan club from the House of Ideas! Here we spotlight the stories of our friends and listeners! Regular appreciator (of all our shows, fair weather friends) and podcast virgin Token Fire Guy tells how he got into comics,
The Dark Tower
, and generally gabs with our own Diabolu Frank! Poor (T.F.) Guy's probably got balls of blue, having recorded much of this show over a year ago, and placed in deep freeze until we were ready for him to defrost au flambé to entertain you! Then, original W.A.M. Man Count Drunkula of
Secret Origins Podcast
and
Flowers & Fishnets: A Black Canary Podcast
takes audio Frank specifically told him he had no interest in broadcasting that was part of a warm-up chat for one of his podcasts, emailed it to Frank anyway, and our boy shamelessly threw it in to expand this show! Finally, the Mighty Marvel Mail Bag! Excelsior!
Thanks for supporting #TrekkerTalk! @NoelCT @rolledspine @SianMandrake pic.twitter.com/dId9Rdx3Ef

— Trekker Talk (@TrekkerTalk) September 3, 2015
@rolledspine Saw this at Baltimore Comic Con. Didn't have spare cash to get it. #PatsyWalker pic.twitter.com/M7xKyNVIzA

— Randy Caldwell (@misterperturbed) October 1, 2015
@rolledspine Lots of hero vs hero in this Tigra issue. pic.twitter.com/ns5ymUcS3P

— Anj (@dranj70) September 25, 2015
@rolledspine gender politics pretty archaic here. 'Women's lib'=man killing. pic.twitter.com/a3p622gYoA

— Anj (@dranj70) September 13, 2015
@rolledspine better story here. With pretty good art by Will Meugniot. And a doc Tumolo appearance pic.twitter.com/RX2BAPpLaT

— Anj (@dranj70) September 13, 2015
@rolledspine last one. I love the super-skrull. Decent story sort of undone by Tuska art pic.twitter.com/GZ6MAFkm4z

— Anj (@dranj70) September 13, 2015
#FWPodcast listeners! Face-to-face with @Illegal_Machine & @CommanderBlanx!! Call the police!! @rolledspine pic.twitter.com/PtHEPzcqQR

— Firestorm Fan (@FirestormFan) October 3, 2015
More
@FirestormFan @Illegal_Machine @CommanderBlanx @rolledspine Exactly how I remember Texas.

— Siskoid (@Siskoid) October 3, 2015
As you can tell, we love a fierce conversation and a pretty picture, so why don't you socialize with us, either by leaving a comment on this page or...