The Marvel Super Heroes Podcast
Episode 050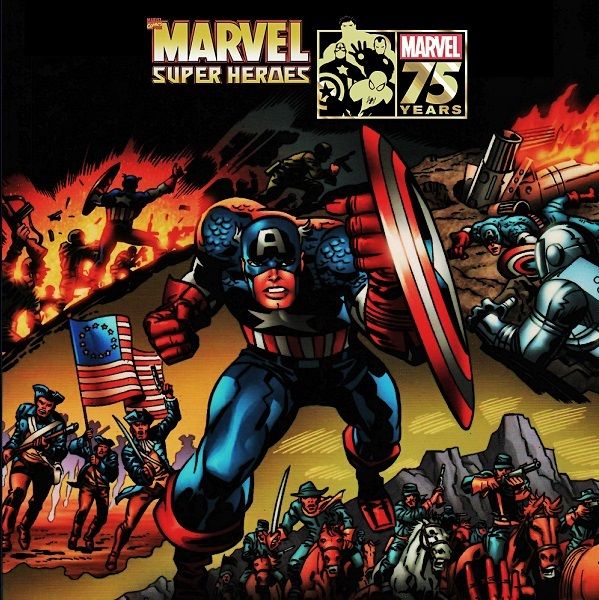 To permanently save this episode's MP3 file to your computer or other listening devices, right-click the link below to bring up sub-menu and select "Save Target/Link As..." Pick where you want it to save to, and you're set.
Note: We like our language NSFW salty, and there be spoilers here...
Face Front, True Believers! The #MarvelSHP founding host trio of Illegal Machine, Mr. Fixit, & Diabolu Frank are joined by W.A.M. Count Drunkula and a couple of special cameo guests for a celebration of both our fiftieth episode and the 75th anniversary of the Star-Spangled Avenger with our first ever all Captain America episode! We hope you think it was worth the wait! Excelsior!
0:02:05 Case No. 1. Meet Captain America radio theater
0:09:10 Excerpt reading from Jules Feiffer's The Great Comic Book Heroes
0:10:38 Round Table: The Origin of Captain America!
0:26:36 Excerpt reading from The Steranko History of Comics, Vol. 1
0:33:06 Round Table: Enemies of America
0:49:05 Round Table: Supporting the Sentinel of Liberty
0:59:14 Round Table: Illustrating The Living Legend of World War II
1:01:41 Excerpt reading from Grant Morrison's Supergods: Our World in the Age of the Superhero
1:04:53 Round Table: Iconic Images of The First Avenger
1:13:45 Excerpt reading from Gerard Jones & Will Jacobs' The Comic Book Heroes: The First History of Modern Comic Books - From the Silver Age to the Present
1:16:54 Round Table: The Human Writing Machine
1:34:26 Excerpt reading from Sean Howe's Marvel Comics: The Untold Story
1:39:36 Round Table: Seeking the Sentinel of Liberty
1:54:36 Mighty Marvel Mail Bag: Illegal Downloading Lecture Edition
2:10:21 Over a half hour of bonus material (deleted tangents, bloopers, etc.)
As you can tell, we love a fierce conversation, so why don't you socialize with us, either by leaving a comment on this page or...